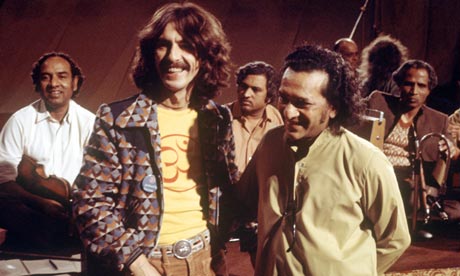 E' morto ieri dopo un intervento al cuore Ravi Shankar, il Mozart del sitar indiano". Aveva 92 anni. Qualcuno lo ha definito
"Il musicista indiano più famoso del pianeta", "Un tesoro nazionale e un ambasciatore globale del patrimonio culturale dell'India", ha detto di lui Manmohan Singh, l'attuale primo ministro dell'India. Ravi Shankar è morto ieri all'età di 92 anni in un ospedale di San Diego, California. Triplo vincitore di un Grammy Awards, Commendatore delle Arti e delle Lettere in Francia, Ravi Shankar è stato il più internazionale e più amato tra i maestri di sitar indiano d
egli ultimi cinquant'anni.



Nel 1965 Shankar ispirò i Byrds ( Eight Miles High ), ma prima di tutto George Harrison che, dopo aver acquistato un sitar lo suonò nella famosissima "Norwergian Wood" . L'anno seguente George reincontra Shankar a Londra e lo segue in India, dove gli insegnerà la sua arte. Si riuniranno nel 1971, durante il famoso concerto di beneficenza tenutosi a New York a favore del Bangladesh. "Quando ho iniziato a lavorare con George Harrison, sono diventato un pò pop star anch'io", confidò Ravi Shankar. "Ovunque andassi mi riconoscevano. Non mi piaceva affatto."

Ravi Shankar aveva avuto tre figli: Shubendhra Shankar, nato dal suo primo matrimonio e morto nel 1992,
Norah Jones, la nota cantante americana,
nata nel 1979 dalla sua relazione con Sue Jones e Chi Anoushka Shankar nata nel 1981 dal suo secondo matrimonio, diventata negli ultimi anni il suo più stretto collaboratore.
Fu Ravi Shankar nel 2003 ad aprire il Concert For George. Introdotto a sua volta da Eric Clapton disse: "Dear friends, I strongly feel that George is here tonight. I mean, how can he not be here, when all of us who love him so much have assembled all together to sing for him, to play music for him. I'm sure he's here. Thank you."
Ora suoneranno insieme...ovunque essi siano..