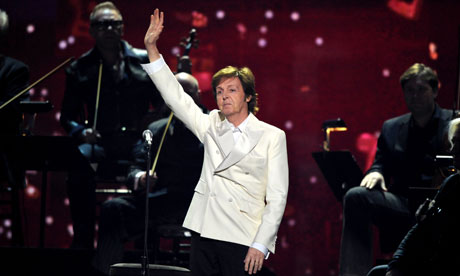 Sir Paul McCartney lo scorso anno sul palco dei Grammy awards Foto: John Shearer/WireImage
«Sono un romantico? Sì, più o meno ... Penso che la maggior parte delle persone lo siano. 'Tutto ciò di cui si ha bisogno è l'amore
.' C'è una ragione per dirlo... ", ha dichiarato in un'intervista
al Guardian Sir Paul, che ha appena vinto il suo 17esimo Grammy domenica sera a Los Angeles con l'album Kisses on the Bottom, nella categoria best traditional pop vocal album.
"Ai tempi dei Beatles eravamo super disinteressati a queste cose", ha detto. "Non ci abbiamo mai fatto caso. Siamo stati candidati una volta all' Oscar.", due nomination nel 1964 per "A hard day's night" e noi non sapevamo nemmeno di esserlo. Invece adesso è bellissimo, un premio.. Quando si vedono Beyoncé e Adele e Jay-Z (o Jay-Zed, come si fa chiamare) lassù, è davvero bello essere in mezzo a loro ".

McCartney ha vinto il suo primo Grammy con i Beatles nel 1965, quando la band fu nominata come miglior nuovo artista e ritirò un premio alla carriera nel 1990. Ha ricevuto altri numerosi premi, tra cui il titolo di cavaliere nel 1997 e la Gran Croce dell'ordine del sole in Perù. "E 'come ricevere un premio a scuola", ha detto. "E 'bello riceverlo, anche se non è tutto quello a cui aspiri.. Non ho un armadio enorme che contenga qualsiasi cosa."

L'album "Kisses on the bottom" è composto principalmente di cover di classici rock e jazz, il tipo di canzoni, secondo McCartney, che suo padre suonava ai tempi della sua infanzia a Liverpool.

"Sono sempre stato attratto da questo tipo di musica", ha detto, facendo notare di aver scritto "When i'm sixty-four", che fu inclusa nel 1967 nell'album "Sgt.Pepper", quasi dieci anni prima, all'età di 16 anni. "Quando diventai un autore di canzoni, mi resi conto di quanto fossero ben costruite quelle vecchie- Ci sono grandi melodie, così come grandi testi. Artisti come Cole Porter erano dei cultori..".

"Kisses oon the bottom" contiene inoltre due brani originali di McCartney, tra cui "My Valentine", con la quale si esibì con la sua band ai Grammy del
l'anno scorso
. "L'ho scritta per mia moglie", Nancy Shevell per l'appunto,
che McCartney ha sposato in terze nozze
nel 2011.

Il
suo prossimo album, il
23
esimo considerando anche quelli con gli Wings,
è attualmente in lavorazione.
"Sono canzoni che sarò in grado di suonare sul palco con la mia band. Ci sono dei brani rock, ma anche un paio di ballate."

La sua registrazione più recente è stata con Dave Grohl e altri due membri dei Nirvana per il brano "Cut Me Some Slack". "E' un sound po' diverso dalle canzoni del mio album", ha detto McCartney.

Tra poco sarà il 50° anniversario dell'album dei Beatles "Please Please Me" e McCartney ha voluto fare un confronto sulla velocità con la quale la band registrò l'album con i tempi di registrazione in studio di oggi. "Le band di giovani non ci possono credere quando dico loro quanto fummo veloci", ha detto. "Noi arrivammo alle 10 ed fummo pronti a registrare alle 10.30 dopo una tazza di tè e una sigaretta. Premetto che nessun altro conosceva le canzoni, solo io e John, quindi ne discutemmo e poi avemmo un'ora e mezza per registrare. E poi ne facemmo un altra prima della pausa per il pranzo per un'ora."

"Il bello è, che questo album continua a vendere ancora oggi, mentre ora ci vuole tutta la mattina solo per fare funzionare un computer."

Paul
vegetariano
convinto ha parlato del
nuovo spot TV a cartoni animati
per la nuova gamma di cibi vegetariani della Linda McCartney Foods. Dello scandalo sulla carne equina, McCartney ha detto: "E'scandaloso, anche se non è una grande sorpresa. Non mi piace predicare, ma penso di aver fatto bene 30 anni fa a cambiare le mie abitudini alimentari..

"Non credo che l'industria sarà in grado di autoregolarsi. Quando c'è questo genere di cose in corso, come gli scandali bancari, si spera solo ci siano dei regolamenti, così la gente potrà credere a quello che gli viene detto. "

Sul suo San Valentino McCartney è stato più evasivo. "Ho dei progetti ma sono rivelabili," ha detto. "La signora non lo deve sapere."
Da www.guardian.co.uk/music/2013/feb/13/paul-mccartney-grammy-album?CMP=twt_gu