"Wings Over America" il monumentale album live di Paul McCartney e Wings fu pubblicato il 10 dicembre 1976. L'album era composto dai brani live registrati durante il "Wings Over America Tour". Wings Over America, con quasi due ore di musica, offrì una interpretazione straordinaria di "Maybe I m Amazed", oltre a classici degli Wings come "Live and Let Die", "My Love" e "Let Em In". McCartney incluse nella setlist , per la prima volta dalla loro separazione , alcuni brani dei Beatles come "Yesterday" e "The Long and Winding Road".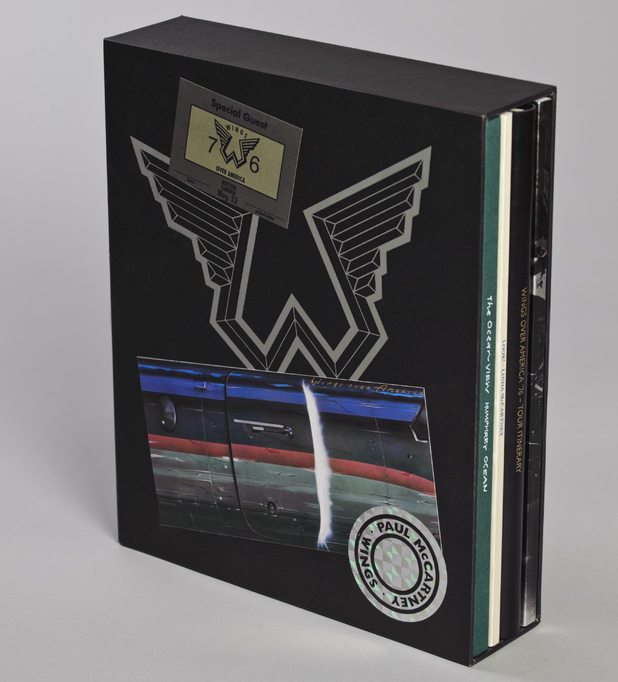 Il 27 maggio uscirà in tutto il suo splendore rimasterizzato.
I vari formati conterranno 3 CD e un DVD: i 2 CD conterranno i 28 brani originali dell'album, il terzo CD
conterrà 8
brani inediti registrati dal vivo durante il concerto al Cow Palace di San Francisco
il 13 e 14 giugno 1976.
Il Bonus DVD conterrà invece il documentario TV di 75 minuti "Wings Over The World"
.
Inoltre:
-Un libro di 112 pagine scritto da David Fricke, con interviste e foto del tour;
-
60 pagine di foto esclusive del tour scattate da Linda McCartney;

-Un libro di 136 pagine c
he raccontano il tour (programmi, foto, memorabilia, testi, note ...) e 3 stampe
(10 x8 );
Un libro di 80 pagine di disegni dell'artista Humphrey Ocean;
Tutte le 36 canzoni rimasterizzate potranno essere scaricate con risoluzione di 24 bit 96Khz, tramite download con il codice inserito nella card inclusa nel deluxe edition package.
Vi ricordo che "Wings Over America" uscirà il 27 maggio. Il DVD del film "Rockshow" non sarà incluso , ma
uscirà in DVD e Blu-ray il 15 giugno. Il film sarà inoltre proiettato in oltre 500 sale cinematografiche il 15 Maggio e in questa versione ci sarà anche un'introduzione di Sir Paul.
(potete vedere l'elenco delle sale nel sito www.rockshowonscreen.com)