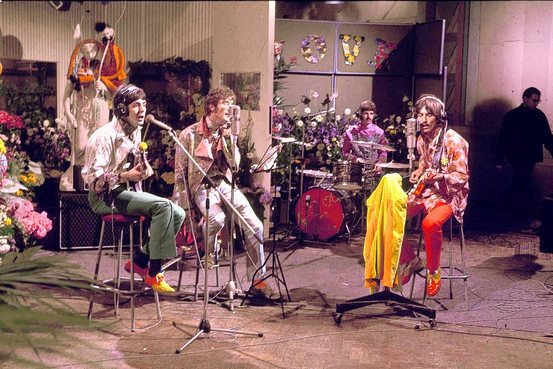 Il 25 giugno 1967, i Beatles presentarono per la prima volta la loro canzone "All You Need Is Love" durante la trasmissione televisiva "Our World", il primo programma televisivo in diretta planetaria via satellite. Trasmesso in ventisei nazioni si calcola che il programma fu visto da 350 milioni di persone.

La BBC aveva commissionato ai Beatles una canzone come contributo del Regno Unito al programma e questo fu il risultato.

La canzone apparve originariamente come singolo nel Regno Unito, e nella versione statunitense dell'LP del 1967 "Magical Mystery Tour".

Era stata richiesta una canzone contenente un messaggio semplice che fosse comprensibile per gli spettatori di tutte le nazionalità. All you need is love ampliava il messaggio che John aveva per la prima volta cercato di esprimere nella canzone The Word. "Era una canzone molto ispirata e volevano veramente dare un messaggio al mondo", disse Brian Epstein , "Il bello della canzone è che non può essere mal interpretata. È un messaggio chiaro che dice che l'amore è tutto". John era affascinato dal potere degli slogan che uniscono la gente e non ebbe mai paura di creare arte impegnata socialmente e politicamente. Quando nel 1971 gli chiesero se canzoni come Give Peace a Chance e Power to the People fossero canzoni di propaganda, rispose: "Certamente. Come lo era All You Need Is Love. Sono un artista rivoluzionario. La mia arte è impegnata per il cambiamento".

Divenne uno degli inni dei figli dei fiori, e tutto quanto, dalla coreografia, all'abbigliamento dei Beatles e dei tanti coristi di accompagnamento presenti nello studio di registrazione, tra i quali spiccavano le figure di Mick Jagger (cantante dei Rolling Stones) e Kim McLagan (moglie di Keith Moon batterista degli Who), era stato preparato minuziosamente per trasmettere al mondo un messaggio di pace, di speranza, di amore, di anticonformismo e di protesta.


Composta in gran parte nell'inusuale ritmo di 7/8, comprende citazioni esplicite di diversi altri brani, tra i quali l'inizio de La Marsigliese, l'Invenzione a due parti n. 8 in Fa maggiore, BWV 779 (di Bach), Greensleeves, In the Mood di Joe Garland. Nel finale Lennon cita Yesterday, canzone composta da McCartney, che subito dopo ricambia il favore cantando She loves you, composta da Lennon, come per sottolineare il richiamo all'unità, tema di base del testo.

Il significato della canzone è esplicito e chiaro, a partire dal titolo. L'amore è necessario, l'amore è indispensabile, l'amore è il valore che dà un senso alla vita. «Basta solo un po' d'amore» affermò John Lennon per superare tutti i limiti dell'uomo, della vita e del mondo, dato che «Non puoi conoscere nulla che non sia noto, non puoi vedere nulla che non sia visibile».

Pubblicata come singolo il 7 luglio, All you need is love si piazzò immediatamente al primo posto delle classifiche e vi rimase per tre settimane. Nel 2004 la canzone ha raggiunto il 362º posto nella lista delle 500 più grandi canzoni di tutti i tempi.

In Italia, invece, il disco uscì il 4 luglio 1967, ma non andò oltre il nono posto della Hit Parade pur permanendo per ben otto settimane nelle classifiche.
Il lato B del singolo era "Baby You're a rich man".


E il 25 giugno è stato scelto anche come data del "Global Beatles Day ", una celebrazione ormai annuale del fenomeno e della musica dei Beatles che è nato nel 2009.

"Lo scopo è quello di avere una giornata riconosciuta a livello mondiale per ringraziare e riconoscere i Beatles per tutto quello che hanno fatto per cambiare il mondo", dice Faith Cohen, il creatore dell'idea.


"Ho sentito che l' idea di un "Global Day Beatles" era diversa", ha detto. "La data che ho scelto ha un significato particolare in senso globale. Proprio il 25 giugno infatti ci fu la prima trasmissione mondiale e i Beatles vi parteciparono cantando 'All You Need Is Love'".


"I fan non devono fare nulla di speciale"ha detto Cohen dalla pagina dell'evento di Facebook . "E' solo un giorno dedicato per riflettere, per promuovere le buone idee e inviare le buone intenzioni nel presente che diventa futuro. Non si tratta di essere un 'fan'.Si tratta di molto di più".